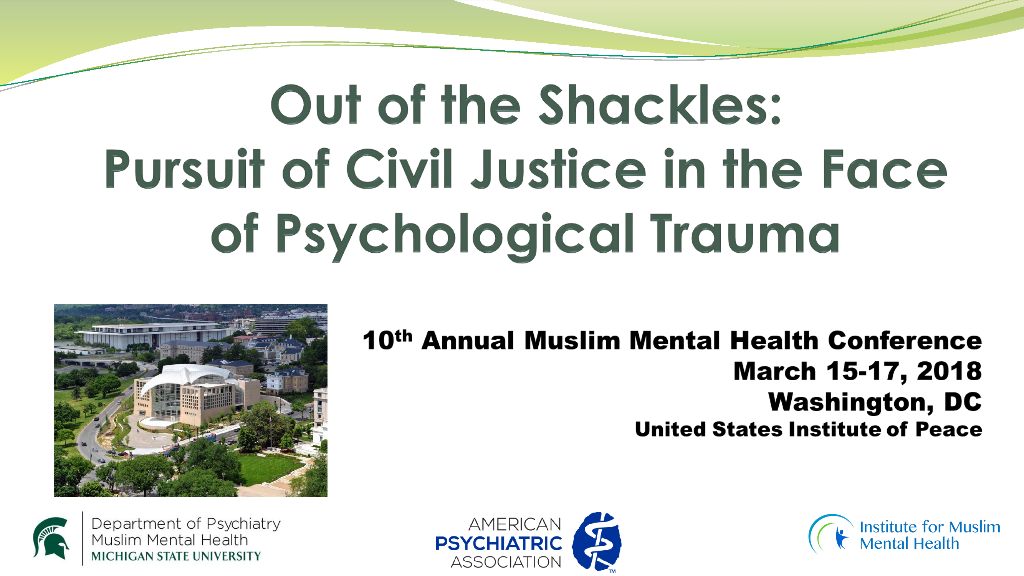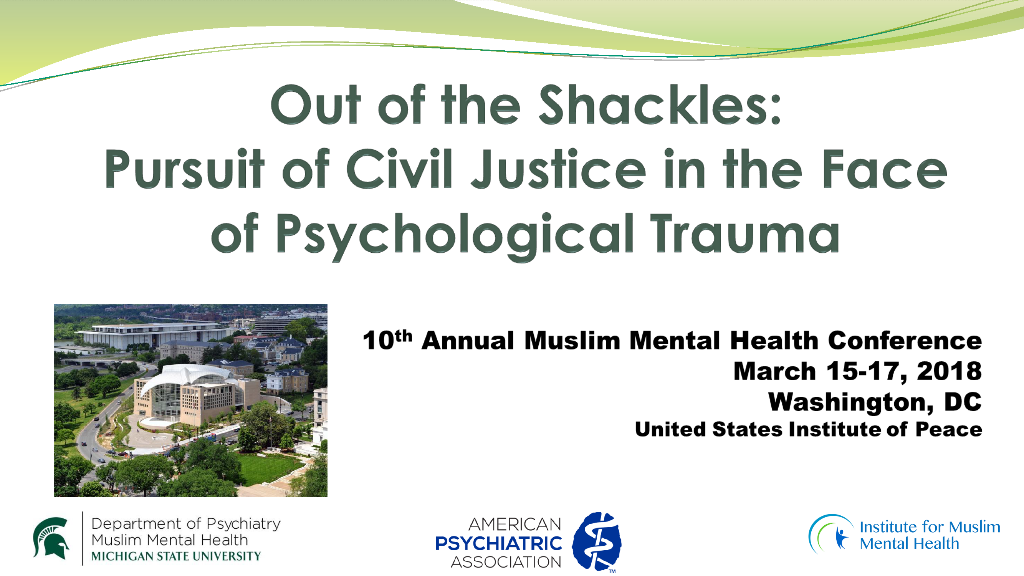 10th Annual Muslim Mental Health Conference
Out of the Shackles:
Pursuit of Civil Justice in the Face of Psychological Trauma
March 15-17, 2018

Washington, DC
United States Institute of Peace
The number of hate crimes, bullying, and microaggressions American Muslims experience is drawing increasing attention. Scholarly research on the subject began long before the recent political rhetoric and even before 9/11. However, the mechanisms, scale, and impact of the treatment of American Muslims requires more rigorous study and better dissemination. Furthermore, the American Muslim experience is subject to American social and structural realities. The role of race, violence, policing, surveillance, educational policy, mental health care access and reform, immigration policy, and civil liberties in the U.S. all impact the American Muslim experience. Interventions, whether at a clinical, programmatic, or policy level have not been well described. This conference seeks scholars who will offer an analysis as well as intervention for American Muslims' challenges.
This unique conference brings together faith leaders, health care providers and researchers to examine topics related to mental health across the American Muslim community. It will include keynote speakers, scholarly research presentations and panel discussions.
In addition to the conference panels, there will also be a Faith & Community Leader Mental Health First Responder training on Thursday, March 16 only. More details on this training can be found here.
Registration
Professionals – $250
Students – $75
Faith & Community Leader Training (Thursday Only) – $100
***After December 20 prices will increase to $300-Professionals and $100-Students***
For on-line registration, follow this link.
Conference Venue
The United States Institute of Peace.
Conference Hotel
A block of rooms called "Muslim Mental Health Room Block" has been reserved at the Courtyard Washington, DC/Foggy Bottom from March 14th to 17th. You may call 1.800.228.9290 and reference the block to make your reservations at the group rate. Special group rate may vary from 205.00 USD – 215.00 USD per night.
Last day to book: February 9, 2018.
Call for Proposals
We are still accepting poster presentations.
Click here to download the Call for Proposals information and instructions.
Click here to complete the Call for Proposals Cover Sheet.
Exhibitors, Sponsorships, Advertisement Opportunities
We invite your sponsorship of the conference. Here are the sponsorship levels:
PLATINUM Sponsor – $10,000
GOLD Sponsor – $5,000
SILVER Sponsor – $1000
BRONZE Sponsor – $500
Click here for additional details on Exhibits, Sponsorships and Advertisement Opportunities.
A business card size ad is only $30 and will be seen by hundreds of guests!
Scholarships
If you would like to sponsor a participant for the Faith & Community Leader Mental Health First Response Training, please click this link.
Co-Sponsors
The Muslim Mental Health Conference is presented in partnership with the Institute of Muslim Mental Health; and co-sponsored by the American Psychiatric Association Division of Diversity and Health Equity, MSU Department of Psychiatry, MSU College of Osteopathic Medicine, MSU College of Human Medicine, MSU Office of the Vice President of Research & Graduate Studies, MSU Provost Office, MSU African Studies Center, MSU Department of Psychology, MSU Muslim Studies Program, MSU Department of Social Work, MSU Asian Studies Center, MSU Center for Gender in Global Context and MSU Office for Inclusion & Intercultural Initiatives.
The host Islamic Center for the conference is the ADAMS Center (All Dulles Area Muslim Society) in Sterling, Virginia, which is the third-largest mosque in America. The hosting imam is Imam Mohamed Magid.
Supporting organizations include: American Muslim Health Professionals (AMHP), and the Institute for Social Policy and Understanding (ISPU)
Agenda
A tentative program booklet may be found here (details subject to change).
Volunteers
We are looking for dedicated, reliable volunteers to assist with the conference. If you are interested, please fill out this form and we will be in touch.
Contact Us
For more information or if you have questions about the Conference, please email msummhconference@gmail.com
________________________
Disclaimer: The Muslim Mental Health Conference is not affiliated with or sponsored by the US Institute of Peace.