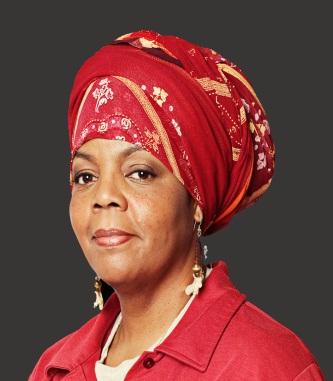 In Memoriam – Cheryl El Amin
By: Farha Abbasi, M.D.
When I think of Cheryl El Amin, only one word comes to mind: "Grace." Grace in living, grace in illness and grace in death. I was fortunate to meet her 10 years ago and never thought that in this short span of time, I would be writing her a farewell note – alas she has gone too soon. When I look back, these were much enriching years for me personally and years of growth for the Muslim Mental Health Conference and movement.
It was the 2nd Muslim Mental Health Conference when Halim Naeem, one of the pioneering forces behind these conferences, introduced me to Cheryl El Amin. I was immediately in awe of this tall, elegant, and soft-spoken woman. She introduced me to Black Muslim culture and embraced me whole heartedly in her circle of friends and family. Under her influence, the Muslim Mental Health Conference became truly inclusive and reflective of the diversity of the South East Michigan Muslim community. She was an integral and vital part of our planning committee. She worked hard to bring notable leading researchers to the conference and started the Black Muslim panel. She helped us institutionalize the conference and established CU credits for social workers.
If I was the complainer, she was the calmer one – just being in her presence would put you at peace. I distinctly remember at the 10th Muslim Mental Health Conference, she saw me fretting and distressing and took me aside and asked me, in her motherly slash therapist voice, "is everything ok?" I started pouring my heart out to her.  She kept listening and holding my hand, and I instantly felt assured, even foolish for reacting that way. The memory is etched on my heart and brings tears to my eyes now, knowing that at that very moment she knew of her illness and was still concerned about my well-being. But that was who Cheryl El Amin was, a truly giving tree for her family, friends and the community. So many of us have sat in the shade of her generosity and benefitted from her wisdom.
She mentored many, as well as guided and lighted the path of social work for many more. Her untimely death is not only a great loss for her family and loved ones, but also for our Muslim Mental Health family. We indeed have lost a pillar and irreplaceable force in her death. With a very heavy heart, we say our goodbyes. May Allah grant her the highest place in Jannah (Heaven) and give sabr (patience) to all those grieving this immense loss.  We should have acknowledged, appreciated and celebrated your contributions more. Knowing you, I am sure we all are already forgiven. Too late yet not to be delayed anymore, we are instituting a Cheryl Al Amin award, that would be given every year to someone who has excelled in serving our Muslim community. 
Dearest friend, this isn't a final goodbye but instead a so-long-till-we-meet-again. Your friendship has left a profound impact and inspired all in the Muslim Mental Health family. You were the epitome of grace, graciousness and generosity. You will be deeply missed 💕